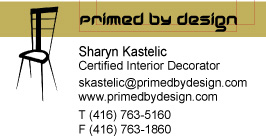 CWBN Member since November of 2002



For Primed By Design Inc, a typical interior decorating project has three phases: Planning, Design, and Implementation. You may opt to do only the Planning (space analysis) phase, due to budget constraints or simply in order to try Primed By Design Inc before committing to the entire project.

The Planning phase includes an in-depth interview to determine client requirements, taking room dimensions and photographs. At the second meeting a scaled furniture layout plan, preliminary budget and a few images to illustrate style direction, are presented. One set of drawing revisions is included.

The next phase is the Design phase, which involves a complete work-up of flooring, wall coverings, furniture, fabrics, window treatments and lighting.

The final phase is Implementation, which includes approval of the final budget and design concept, purchasing, delivery and installation.

These are the three basic phases that comprise a typical interior decorating project. Call for a quote for the Planning phase and get started with your project!